This is the closest bottle that simulates a breast that I have seen, and I've shopped around. There have been a couple close ones, that my babies have grudgingly taken, but they have both been discontinued, so I started looking again for this baby's bottle.
I think these look great! I wanted to share with you ladies, too! I just ordered two, myself.
My breastfed babies have always had such a hard time taking a bottle, and honestly, even the "breast" ones still are not close to the shape of a boob, a nipple, and especially not the color. Here's hoping this bottle will be a much smoother transition from breast to bottle and back again.
(We had to supplement my nursing with a specific medical grade formula for at least one extra meal with both my babies due to severe acid reflux, which is why they went back and forth from bottle to breast. I'm just trying to be prepared this time around since baby#3 will likely be drinking from both as well! )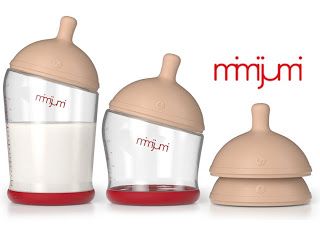 Uncommon Goods used to sell them, but they don't anymore. I did a search on-line and found another retailer, though, thankfully. There are more than one.
Expecting Baby #3 to complete our family.
I have an adventurous 2 Year Old Toddler Boy & thoughtful 4 Year Old LIttle Girl!