December 2013 Moms
Am I the only one NOT registering?
Mobile title: Am I the only one NOT registering?
I mean, I never got the point to it, given with DD we hadn't planned on having a shower or anything at all, and now with this LO coming, we've got a lot of the things already, and it's just....am I completely missing a point on something, since I'm seeing that come up today and really don't wanna derail another topic by stating my confusion about it...

Dec13 Siggy Challenge: "Whatever dafuck we want!"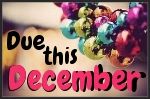 Warning! This poster might ramble more than a little, might make little sense, or take things too literally. Take anything said with a grain of salt and poke with a stick if too silly! Have a nice day!
Choose Another Board
Search Boards