After 21 hours of medfree labor, our little Leah Nicole arrived at 11:09pm last night! She weighed 7 lbs 10 oz and is 22 inches long. I will post the full birth story and pictures when I get a chance to write it, but I wanted to let everyone know where I ran off to. Congrats to any new mommies I missed and good luck to all the overdue moms to be!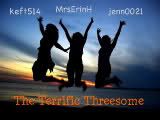 TTC #1 Since April 2011
BFP #1: 5/12/11, EDD 1/13/12, missed M/C confirmed 6/15/11. We miss you Elijah.

LAP/hysteroscopy 8/28/12 to remove uterine septum and stage 3 endo
10/2/12 Medicated Cycle #1: Femara + Ovidrel + TI = BFP!!!

BFP#2: 10/25/12, EDD 7/9/13, Born 7/18/13! It's a girl!

And we know that in all things God works for the good of those who love him, who have been called according to his purpose. -Romans 8:28
Patiently waiting for my buddy jenn0021 to join me on PGAL
My blog