Mobile: I am just so frustrated!
There's nothing like being charged by your child's pediatrician to get them to drink 2 - 3 oz. of juice a day, by any means necessary, and having NO MEANS by which to do so. The pediatrician even told me to do it by a medicine dropper a bit at a time if I had to, but DD won't swallow. She just lets it roll out of her mouth. Which is what she does with a sippy, with a different kind of sippy, with me holding a cup up to her mouth and letting her sip/slurp it. I have to give her nearly two tablespoons of laxative to get her to go every day - or even every other day - and I am so frustrated. I feel like there has got to be a better way, but we've seriously tried everything. I know I keep raving about this it just makes me so upset. Her body can't be designed not to go. Why is this happening? The only thing I can think is that she did, as someone mentioned previously, develop a fear of going, so she holds it unless she can't (like when I give her a laxative).
Thank you for letting me mostly vent and I'm sorry for doing so.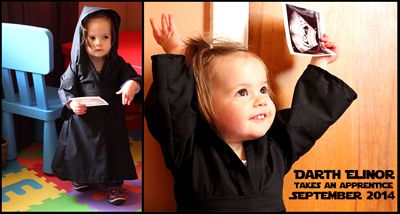 TTC since 07/11 | natural m/c 08/11 | BFP 12/6/2011 | Elinor Anna born 8/18/2012 | BFP #2 1/16/2014