You ladies may or may not remember me, I had a March 2013 rainbow baby. I posted some on the PGaL board, but after little man was born I seemed to fall off the face of the Bump. I felt a proper intro would require uploading pics to add to said birth story...and ain't nobody got time fo dat with three kids at home. Or maybe I'm just lazy.
Short birth story (see above, lazy)
Lucas Clay was born at 8:23 am on 3/19/13, weighing 9 lbs 3 oz. He did not get the memo that subsequent births are supposed to go faster, I was in labor for about 16 hours, 14 of that spent at the hospital.
Fast forward almost four months later..we have been again blessed with another easy baby, he eats well and goes to sleep easily, sleeping from about 7:30-6:30 with one feeding anywhere from 3-5 am. He is rolling over and getting very vocal. Each milestone is bittersweet this time because I'm pretty sure he will be our last little one. Also, there is the weird feeling that he wouldn't be here if our two angel babies had made it, and then the guilt for thinking that.
Now for the cuteness: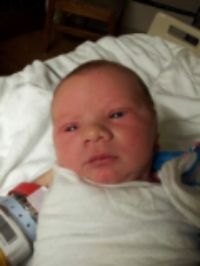 This is when he was almost 24 hours old

DD#1 with little bro

DD#2, one of my favorites, she looks ecstatic!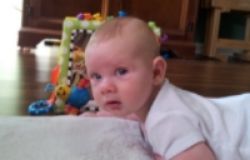 and a more recent pic, tummy time!
Hoping to be able to do more than lurk, maybe I'll get my siggy updated in a few years...
DD#1: 9/21/05

DD#2: 9/15/09

Natural M/C: 7/22/11

Missed M/C: 11/30/11

DS#1: 3/19/13