Mobiles: If you know someone that has adopted
If you know someone that has small children that were adopted, how much do you think of them being adopted? I'm not sure that the question even makes sense.
Today Hadley went with H to his family's 4th get together and I went close to bedtime to pick her up. H's cousin who I don't see often was bragging on how well behaved she was and how she'd grown so much since she last saw her. I said "I know, she'll be 2 in a week or so!" and she said back "I bet it don't seem like it's been that long since you got her". I know she didn't mean anything negative about it at all, she's a super nice lady, but it just makes me feel like being adopted is how she thinks of Hadley. I was in the nursery with her when she was still covered in blood and goo from delivery... I honestly forget that she isn't biologically mine. It's not just her comment, I've had several like that since she turned 1. When she was an infant I never thought twice about it, but now that she's almost 2 it just strikes me as odd that it's something that's brought up at all by people that aren't close to us.
Just the other day an old coworker stopped by to visit and asked "Have you seen her mom lately?" out of the blue... I said "you mean her birth mom? No she doesn't want any contact with us and we are respecting that". I truly do know that it's just lack of knowledge of the correct terms, I just can't understand why someone who doesn't see us often at all would even feel the need to bring up birth mom, no matter the correct term or not.
I've also had 2 other people I can think of in the last few months to ask if we've had contact with her first family, people that I very rarely see.
I want Hadley to know that she was adopted, for it to be a part of her life story and never have to sit down to have "the talk", so it's not as if I'm trying to hide it, I just think it's kind of odd that it's even mentioned.
I'm not asking if you'd actually ask such questions to someone who has adopted their children, I just wonder when you see them, is that something that you always think about? I don't know many people who have adopted but the ones that I do know it's just not thought about.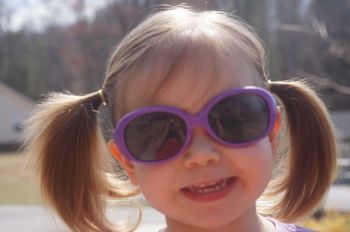 Forever blessed through adoption! 7-17-11