Hi Everyone,
I am not pregnant yet but am lurking a bit:) My husband and I will probably start trying at the beginning of next year sometime. So I know this isn't an immediate thing at all, but I have just been thinking about it all recently.
I have some food allergies. I cannot have land-meat (Chicken, beef, pork, etc) and I cannot have most dairy ( I can still have hard cheese but am not good with milk, yogurt, etc). I am just wondering how this would affect breastfeeding? I wouldn't want to deprive my future child of vitamins or a balanced diet. Would I have to use formula all or part of the time?
Thanks for your input:)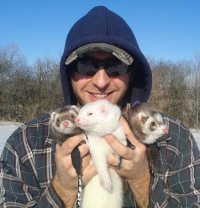 My Husband, James, with our 3 furbabies, Charlie, Blaze, and Dusty!