Parenting after a Loss
been away for ages.....i see lots of the old ttcal crew has babies!!!!
Hey girls, I know I have been pretty much mia since Ashton arrived 8 quick months ago. Life is crazy busy with the baby and a 3 yr old! I am so excited to see so many of you have your rainbows. If you remember me and want to share your pg and baby details, I reaaly would love to hear about them.
Ashton turned 8mo old today. He goes for his 6mo adjusted age assessment tomorrow. he is doing really well. Weighs over 20lbs....he's a tank. He us working on cutting his first tooth, and sitting up on his own. He loves to swim in the bathtub, and jumping in his exersaucer and jolly jumper.
I am seriously going to try to get on here much more often. I miss it around here.e
BFP#1 03/01/09 Carter arrived at 9lbs even on 11/11/09
BFP#2 08/24/11 missed m/c 10/09/11 D&C 10/12/11 @ 11w
BFP#3 03/17/12 Ashton arrived at 5 lbs 10 oz 8 weeks early on 10/10/12
My Boys, 2012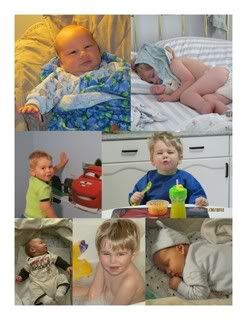 my read shelf:
Choose Another Board
Search Boards