As long promised, here is a tour of Baby Petra's Nursery. While we will only live in this house for another year we decided that the paint and decals could be duplicated, so we'd go ahead and do it now. No, this is not a pink and frills nursery. Yes, we knew we were having a girl before designing it.
Entrance door, with two pups who know not to come in without permission.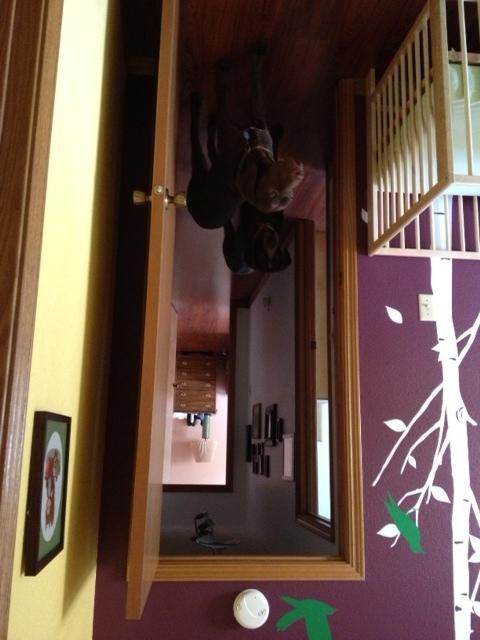 Moving around the room, the birch tree decals on the same wall as the birch wood crib.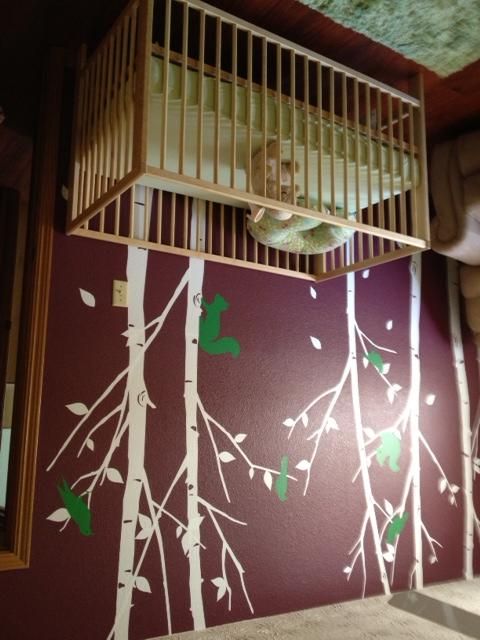 Continuing around the room, the amazingly comfortable rocker/recliner. Oh, and that rug? That's the color of moss, and is made from embroidery thread instead of yarn. It is ridiculously soft on the feet, and fun to play with. You can't see it well, but the curtains I made from a batik fabric of a certain type of flower that grows in the birch woods up here.
The full-sized bed for guests and eventually for LO. (Yes... that is a moose-skin rug. More on that later.)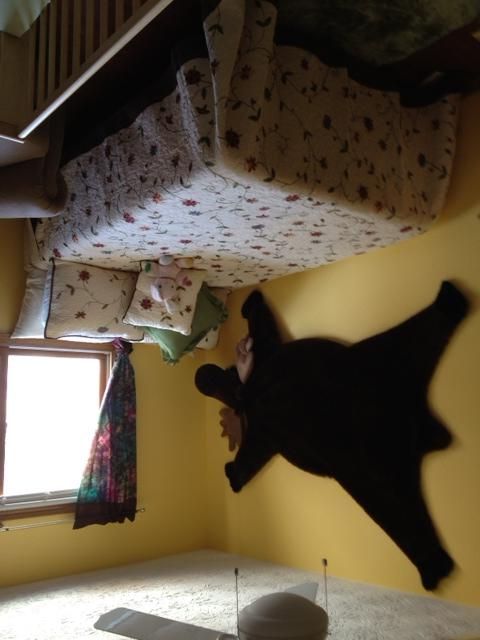 This is our $910 solid maple dresser that we wanted back when we first knew the sFET worked, but decided it was entirely too expensive. We were able to get last month for less than $350, because Mr Petra is a clever monkey! The grizzly bear has a King salmon in it's mouth that is magnetic and so soft. Fun to play with. The HUGE portrait in over the dresser is a selfie we took during our honeymoon. It's a timer shot that used a very a long exposure, and is one of the coolest selfies I've ever taken. We had to hold still for a very long time. Mr Petra wanted Baby Petra to know we were always looking over her.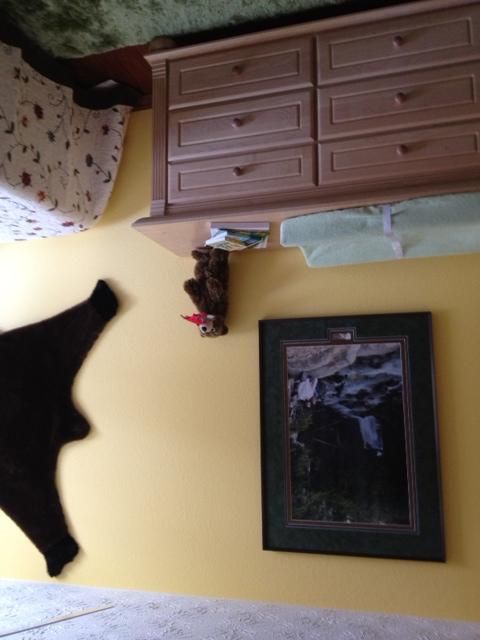 This is the amazing needlework that Jenek made for me. I swear that in a year or two, I will make that as a Halloween costume for LO!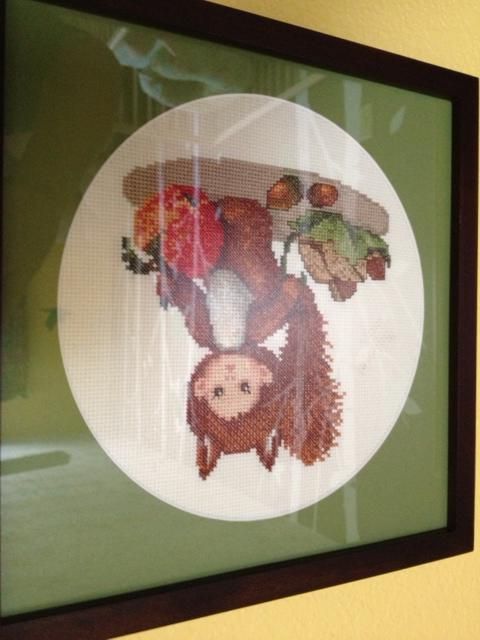 Here is a detail of the decals. This was a great big mucking project that spanned weeks. I love it.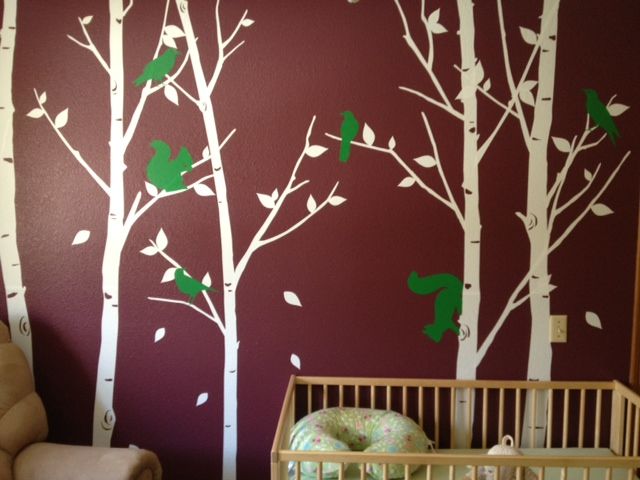 A detail of the scene wrapping around the wall onto the yellow paint.
Okay, here is the moose-skin rug. The only explanation I will give is that we are Alaskans, this is an Alaskan woodland-themed nursery, and we have very warped senses of humor. Also, that moose is the softest stuffed animal I have ever felt, and I love petting his big nose.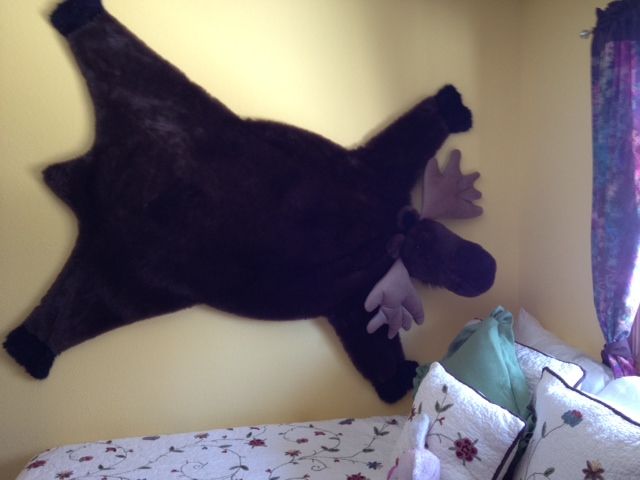 So, the only thing that is missing is a special floor lamp that Mr Petra is making for me. It's a sunken light source housed behind a screen of red willow, and he made a kick-plate switch. So, I'll be able to turn a soft diffuse light on and off with my toe, while holding LO.
AMA over 40
Massive uterine fibroids removed 3/06
BFP 1/11; MM/C discovered @ 10w, loss at 6w; Cytotec
B/W 7/11 = normal CD3, FSH 8.9; 7DPO progesterone 1.7
Three Clomid cycles, all BFN, Off to an RE for me...
FSH=8.7 E2=30 AMH=1.8 HSG clear, SA=great
Inj. IUI #1 12/9/11 BFN, Inj. IUI #2 1/6/12 BFN
Inj. IUI #3 1/30/12 BFP!, HCG doubled through 6w, 7w u/s mm/c twins
Factor V Leiden, Hetero, symptomatic
Op Hysteroscopy 5/12, removed scar tissue and uterine septum
Doing Cryo-DE IVF
Beautiful hatching 5-blast transfered 8/30
BFP 9/7/12 EDD May 19, 2013
A/S on 12/21/12, Petra's having a baby, it's the end of the world!
Pebbles arrived safe and sound 4/13. Placenta accreta found.
Op hysteroscopy 2/7, reopen ute/remove adhesions from accreta
Found severe Ashermans. Fuuuuuuu... Repeat Op Hyst in March.
Op Hyst ver 3.0 looks good so far, find out if it worked in June.
Finally got the damn IUD out. Waiting to stop bleeding.
SIS shows rippled funky shaped ute, but given clearance to begin sFET calendar.
Here goes everything...
sFET#2 BFP, ended in m/c.
Waiting for the next Op Hysteroscopy to find out what next.
Scratch that, retained tissue. 3rd Cytotec round.
Another damn Op Hyst. Found and removed retained tissue.
Pathology returned fine, no molar. Cleared for final attempt after next cycle.
"Petra, you are an obese 40+ year old. Stop jumping through these hoops. Just adopt already. There is no shame in that." -Deethebee