I'm more than happy to go buy clothes for my little girl, but I just don't feel like dealing with the headaches of trying to figure out which is the best furniture/accessories/fill-in-the-blank and why and what we can afford and blah blah blah. Anyone else in the same boat? My shower is 10 weeks away so I figure I have a little bit of time...but then at other moments I start worrying that I'm procrastinating too much. Ugh.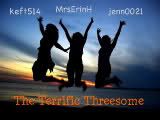 TTC #1 Since April 2011
BFP #1: 5/12/11, EDD 1/13/12, missed M/C confirmed 6/15/11. We miss you Elijah.

LAP/hysteroscopy 8/28/12 to remove uterine septum and stage 3 endo
10/2/12 Medicated Cycle #1: Femara + Ovidrel + TI = BFP!!!

BFP#2: 10/25/12, EDD 7/9/13, Born 7/18/13! It's a girl!

And we know that in all things God works for the good of those who love him, who have been called according to his purpose. -Romans 8:28
Patiently waiting for my buddy jenn0021 to join me on PGAL
My blog