I'm back. :(
IVF #2 took us farther than we've ever been and we experienced a lot of firsts. First BFP, first pregnancy with heartbeats and then our first miscarriage. I was carrying identical twins, but at the 2nd u/s their hearts stopped beating. That awful day was Wednesday, we had a D&C yesterday and now here I am back at square one trying to figure out how to get back to that happy pregnant place.
Anyway, I'll be cheering on the Bunnies and the Hopefuls as I sit here on the infertility bench trying to weed through my thoughts and wait for our D&C results to come back so we can have a WTF with our RE.
Sorry to see so many new intros recently, too. Welcome ladies--hope your stay is short.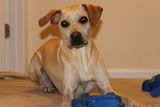 Me: 40, DH: 40 Married since 4/2009, TTC since 10/2010
FSH= 5.4, AFC= 11, E2= 51 Dx: Unexplained w/2% morphology
IUI 1-3: Clomid, Gonal F, Ovidrel + Prometrium = BFN
Acupuncture starting January 2012; IUI 4-5: Gonal F, Ovidrel + Prometrium = BFFN
IVF #1 (Antagonist) w/ICSI & AH: ER 8/7/12--7R/4M/4F; ET 2-8-cells + 1-7-cell embies= BFN
IVF #2 (MDLF)w/ICSI & AH: ER 11/26/12--23R/14M/6F ET 11/29 1 early morula + 2 8-cells; Beta 1 (15dp3dt)= 408; Beta 2 (17dp3dt)= 649 Beta scare :/ ; Beta 3 (19dp3dt)= 1485; 1st u/s 12/28/12= 1 sac with 2 HBs 113bpm (identical twins) EDD= 8/19/13;
MIssed MC D&C @ 8w3d on 1/10/13
PAIF/SAIF welcome!