So yesterday morning I called the NICU to see what the plan was and the nurse told me because he had an alarm that required gentle stimulation (just rubbing his foot) that he wasn't going to be able to come home yet. I had to hang up because I absolutley lost it, I was hysterical. It's so hard because we have been through so much getting pregnant, staying pregnant, and now over 3 weeks in the NICU.
The dr that saw him yesterday isn't his primary so he just irritated me lol. Then the nurse that had him during the day told me that the nurse that recorded the event wasn't even a NICU nurse so there is a possibility that she stimmed him too early and he didn't even need it! I was a mess all day yesterday.
Good news for today is that his dr. is there so I will be able to talk to her and he has only had 2 alarms since the stim alarm, neither of the 2 needed stimulation! I am not giving my hopes up for today because I can't keep doing that to myself. I have a knot in my stomach right now because the dr could call at any minute to tell us whats going on.
I am ready to be done with this fricken hospital, between him and I we have been there for 3 months, I am over it! I know they want whats best for him but there is a reason he will be coming home on a monitor, he will be 2 steps away from me at night, and I am a fricken nurse so I think I can handle rubbing his foot if he needs it lol. Alright I'm done complaining :-)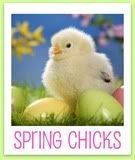 DH: Post testicular cancer/tesicle removal, low sperm count: 12/20/11 SA: motility 45% morphology not able to be tested good, Sperm count = 2.2 million Me: Diagnosed with hypothyroidsm 12/20/11 All blood work looks good including thyroid level! RE appt 1/23/12- RE recomending IVF, DH will have another SA done, waiting for CD1 to make appt for blood work, u/s, and SHG. 2/2/11 SA results= count 11 million!!! motility 83%!!! morphology 1% IVF with ICSI! BCP staretd 3/23, Starting Lupron 4/9, stims 4/20.
ER 4/30, ET 5/5- Transfered 2 beautiful blasts, 1 frostie waiting! BFP+HPT 5/10, Beta#1 5/15-330! Beta #2 5/17 741!, Beta #3 5/19 1363! First U/S 6/1
PAIF/SAIF welcome!