Parenting after a Loss
Been MIA for a while...hoping to be back now
Hey ladies, I have been MIA for weeks/months. For a quick recall, I ended up having my water break at 30w and spending 2w on hospital bedrest (at a OOT hospital with a great NICU) before DS#2 arrived. We were transferred to our local NICU at 3 days old and baby spent another month in the NICU before being released on November 5th. I have a 3 yo, so life was insanely busy for the first few months.
We have finally adjusted and have somewhat of a schedule. Dealing with a preemie is much different than a full term baby (at least for me). DS is doing great, going 3 or 4 hrs between feedings. He has pretty much doubled his birth weight and has managed to avoid getting a wicked stomach flu that went through the house.
Hopefully I'll be able to get on here every couple of days if not more. I hope you are all doing well. Gonna spend some time catching up. Mork, I've been thinking alot about you and your precious girl, being that our los share a birthdate.
BFP#1 03/01/09 Carter arrived at 9lbs even on 11/11/09
BFP#2 08/24/11 missed m/c 10/09/11 D&C 10/12/11 @ 11w
BFP#3 03/17/12 Ashton arrived at 5 lbs 10 oz 8 weeks early on 10/10/12
My Boys, 2012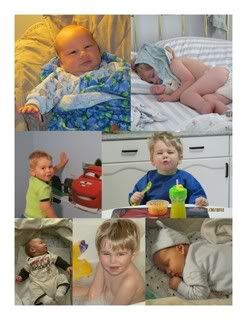 my read shelf:
Choose Another Board
Search Boards