I feel like a Turkey-Bunny and will be hanging out to see how the rest of you fair, if you don't mind? We had a less than stellar beta #2 on Sunday (70.19 doubling time, but who's counting?), but my 3rd beta picked up speed today and we are back on track after a little stopover in crazy town these past 2 and 1/2 days.
I've been on this board since March when IVF became inevitable after 5 failed IUIs. The support on this board is wonderful and my heart and prayers go out to each one of you ladies to eventually find your happily ever after. I hope to see you all on the PAIF board...FUIF. <3
P.S. In addition to betabase.com, here's a website I liked obsessing over should you find yourself on the unlucky side of betas that are not perfectly doubling: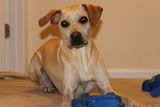 Me: 40, DH: 40 Married since 4/2009, TTC since 10/2010
FSH= 5.4, AFC= 11, E2= 51 Dx: Unexplained w/2% morphology
IUI 1-3: Clomid, Gonal F, Ovidrel + Prometrium = BFN
Acupuncture starting January 2012; IUI 4-5: Gonal F, Ovidrel + Prometrium = BFFN
IVF #1 (Antagonist) w/ICSI & AH: ER 8/7/12--7R/4M/4F; ET 2-8-cells + 1-7-cell embies= BFN
IVF #2 (MDLF)w/ICSI & AH: ER 11/26/12--23R/14M/6F ET 11/29 1 early morula + 2 8-cells; Beta 1 (15dp3dt)= 408; Beta 2 (17dp3dt)= 649 Beta scare :/ ; Beta 3 (19dp3dt)= 1485; 1st u/s 12/28/12= 1 sac with 2 HBs 113bpm (identical twins) EDD= 8/19/13;
MIssed MC D&C @ 8w3d on 1/10/13
PAIF/SAIF welcome!