408--Today I am still pregnant! (15dp3dt)
I was trying not to test this cycle before beta, but I turned 40 on Tuesday and I needed to know if I was going to need to drown my sorrows in a bottle or 3 of wine.
Right now I am happy, but guarded. After 2+ years of TTC, 5 failed IUIs and 1 failed IVF this is the closest we've ever been!
I went to my weekly acupuncture session on Wednesday and acted normal. She felt my pulses and asked if I had my bloodtest yet. I let her know it was on Friday (today); reading her expressions when she was taking my pulses was priceless! I then came clean and told her I POAS the day before.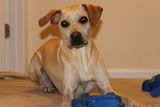 Me: 40, DH: 40 Married since 4/2009, TTC since 10/2010
FSH= 5.4, AFC= 11, E2= 51 Dx: Unexplained w/2% morphology
IUI 1-3: Clomid, Gonal F, Ovidrel + Prometrium = BFN
Acupuncture starting January 2012; IUI 4-5: Gonal F, Ovidrel + Prometrium = BFFN
IVF #1 (Antagonist) w/ICSI & AH: ER 8/7/12--7R/4M/4F; ET 2-8-cells + 1-7-cell embies= BFN
IVF #2 (MDLF)w/ICSI & AH: ER 11/26/12--23R/14M/6F ET 11/29 1 early morula + 2 8-cells; Beta 1 (15dp3dt)= 408; Beta 2 (17dp3dt)= 649 Beta scare :/ ; Beta 3 (19dp3dt)= 1485; 1st u/s 12/28/12= 1 sac with 2 HBs 113bpm (identical twins) EDD= 8/19/13;
MIssed MC D&C @ 8w3d on 1/10/13
PAIF/SAIF welcome!