Sorry I have been MIA, but I've been really busy and spending hours/days at the NICU with Ashton. Ashton is now over 6lbs 4oz and is setting weight gain records in the NICU. He gained 75g yesterday alone. He's taking at least part of 6 feedngs a day orally. I have spent the last two nights at the hospital so I can try to bf at almost every feeding. He does at least 10 mins at most sessions and his record was 30mins last night at 9.
They asked me to bring his carseat in on Thurs so they can do his carseat test by the end of the week. Hopefully by then he'll be taking all his feeds orally and will be able to come home before the weekend is out.
I can not wait to have both of my boys home with me...this has been the hardest month of my life, being apart from at least one of my kids all the time.. SUCKS. As for me, physically, I am feeling much better. Emotionally, I still struggle with guilt of not seeing as much of Carter as I feel I should and it kills me everytime I leave Ashton at the NICU. I know I am only one person and I am doing the best thing I can for my kids, but it is so hard. Being a NICU mom is pretty much the hardest thing I have ever had to do and I will be so happy when we leave for the last time.
On a brighter note, I am now under my pre-pg weight, which is very nice, thank you bfing!
I hope all you ladies are doing well and that your little ones are thriving. I hope to get online more in the coming days to catch up with all of you.
BFP#1 03/01/09 Carter arrived at 9lbs even on 11/11/09
BFP#2 08/24/11 missed m/c 10/09/11 D&C 10/12/11 @ 11w
BFP#3 03/17/12 Ashton arrived at 5 lbs 10 oz 8 weeks early on 10/10/12
My Boys, 2012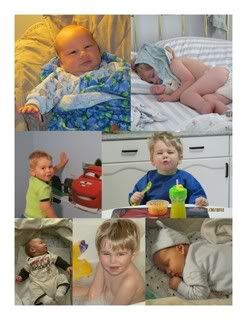 my read shelf: