I am so torn, I have a son who is a little over two and am about to have a little girl. Clearly his clothes wont work for her. But what should I do with all of his adorable cute clothes? Store them for the possibility that maybe in a couple years we decide to have a 3rd (which may or may not be a boy), donate them, or offer them to people who would probably be overwhelmed by 2+ years worth of baby clothes.
What should I do!
My 1st little miracle JAC born 4/8/09-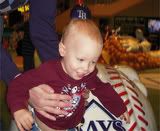 Working on Miracle #2 When the world says "give up." Hope whispers"Try one more time"