Sometime in April or May my MIL and I were talking on the phone and she expressed her "interest" in being in the delivery room. I tried telling her I wasn't comfortable with that, but she just wasn't having it. She went on about how all the grandmothers were "supposed" to be in there and that she WAS going to be there. That I didn't realize how my modesty would go out the window when pushing a baby out, things of that nature. I just couldn't get through to her. Add on to the fact that she lives 14 hrs away (her plan was to drop everything and make it before crowning) and would be in town for a week or so.

DH and I talked extensively about this. He doesn't want his overbearing mom stressing me out (during labor, delivery, or that first week home) and he called her last night. Her plan completely matched up with our ideal plan! It was insane. DH was completely speechless, she said she would come a week or two after baby was born, that "she respected my wanting only DH in the room", and she "didn't want to overwhelm me".
Crazy! So who slapped her into shape? Maybe abducted her and re-wired her brain? I am so confused, this is the exact opposite of every other situation with this lady.
FTR: Not complaining- I am thrilled.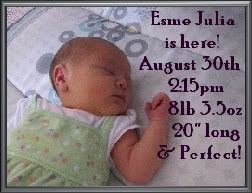 Wedding Anniversary: August 7th 2010 BFP: December 22nd 2010 Beautiful Little Birthday: August 30th 2011
BLOG.