Enter to win a signed copy of Anne Geddes new book Beginnings - another stunner, celebrating new beginnings in nature and life.
Continuing in the tradition that has made her one of the most sought-after and popular photographers in the world, in Beginnings, Anne Geddes explores the intricate beauty of birds? nests, the delicacy of eggs, the elaborate yet often unnoticed texture of bulbs, and the glorious color hidden inside the tight, unopened petals of a blossom before it blooms. Then, she expands on her visual metaphor with surprising and illuminating juxtapositions of beginnings in floral forms, as well as her signature babies and pregnant women.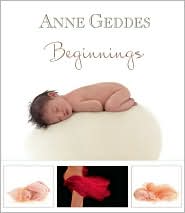 Simply respond to this post and you'll be entered!
Don't worry about posting your contact info, just be sure to check the email you log in to the site with. We'll also announce the winner on the board next week. Sweeps ends Wednesday, November 10 at 11:59pm EDT.
Read the full rules here.