I loved seeing these so thought I'd post our pics for everyone. These are pictures just of the details, I spent almost an hour taking pictures of this stuff, I was so lucky to have such wonderful in-laws to do this for us!! DH's twin sisters and his mom hosted the shower (they called dibbs on it when I was 10 weeks ha!) as you can see they went to TOWN! They made everything that you see, the cupcakes, the butterfly wings, the cookies, the baby carriages and such are all made out of chocolate, the diaper cake, the centerpieces, etc.
Here we are the day of the shower (me 28 weeks)
Our only permitted silverware for the day, they were baby spoons
Our only permitted drinking glasses, made it hard for DH to drink his beer but it was hysterical!
There were bottles of this everywhere, love it!


Centerpieces with vintage toys which is what our nursery theme is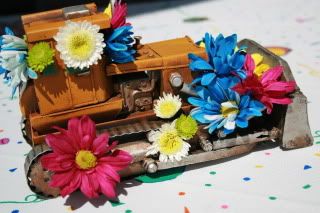 the plane carrying a sign...


The popcorn favors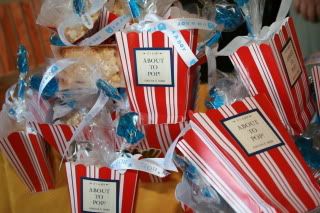 Close up

Silverware wrapped with hand cut out flowers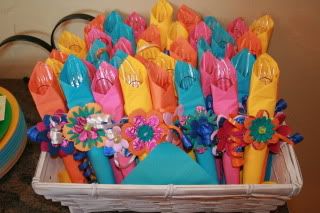 The beautiful handmade butterfly cupcakes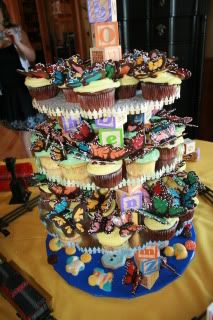 Close up of the butterflies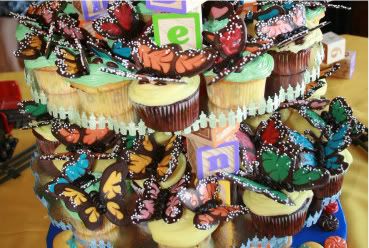 Onesie cookies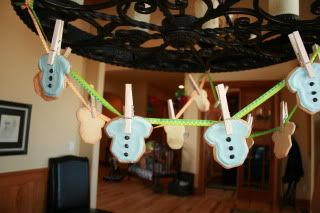 Flower centerpieces to match the popcorn favors
My mom calls baby "jellybean" so these were all over the house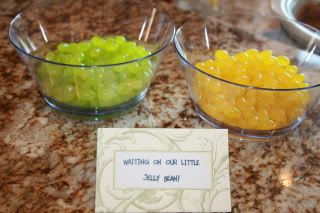 Baby blocks centerpieces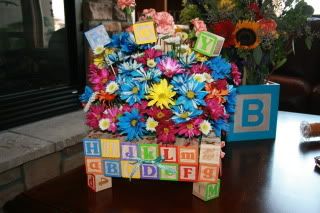 The blue punch with rubber duckies in it, they wouldn't stand up straight!


More blue for boy!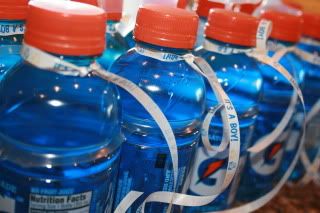 More decorations hanging everywhere and vintage planes to go with our nursery theme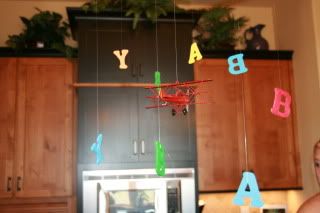 Daddy and I with our stork that we made out of the cardboard from the crib box! It turned out sooo cute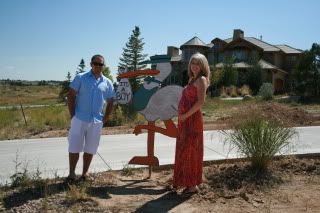 LO's great grandpas train set was the centerpiece for the dessert table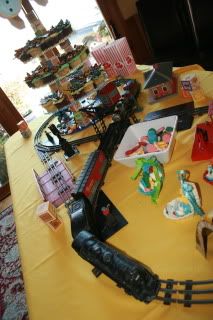 The diaper cake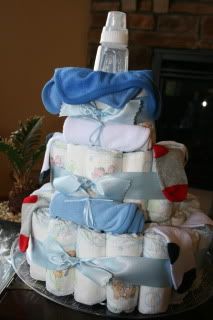 The gifts! Great idea they had putting them all in the crib (this is gma's crib)