Cause I'm having this baby!! I was 5cm when I got here, last they checked I was almost 10! After horrible back labor for a few hours I got the epi. I don't regret it. I almost passed out from the pain & my DH was crying because he knew how much it hurt me. I love you guys. Thanks for all the well wishes & the labor dust... most of all, thanks for putting up with all my biitching. I'll post again after LO is here!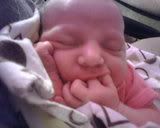 Team Leo's Baby Page
Team Leo's Scrapblog
Labor buddy to Margauxlicious!